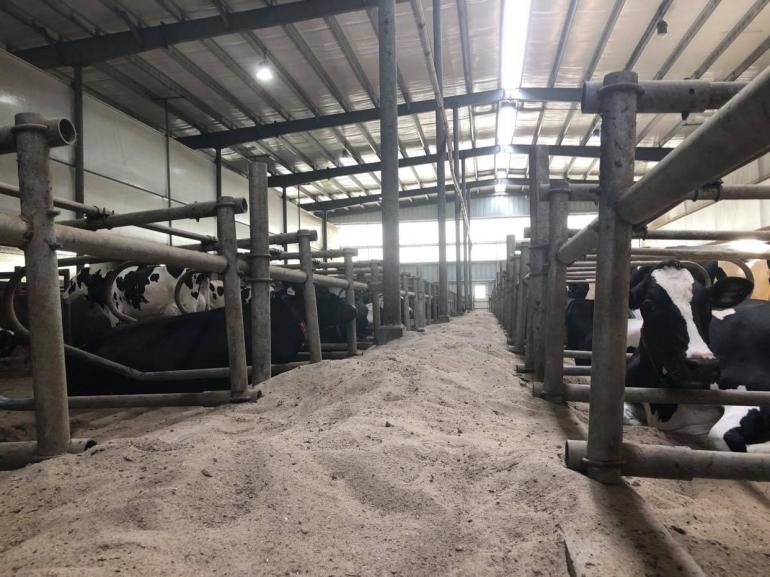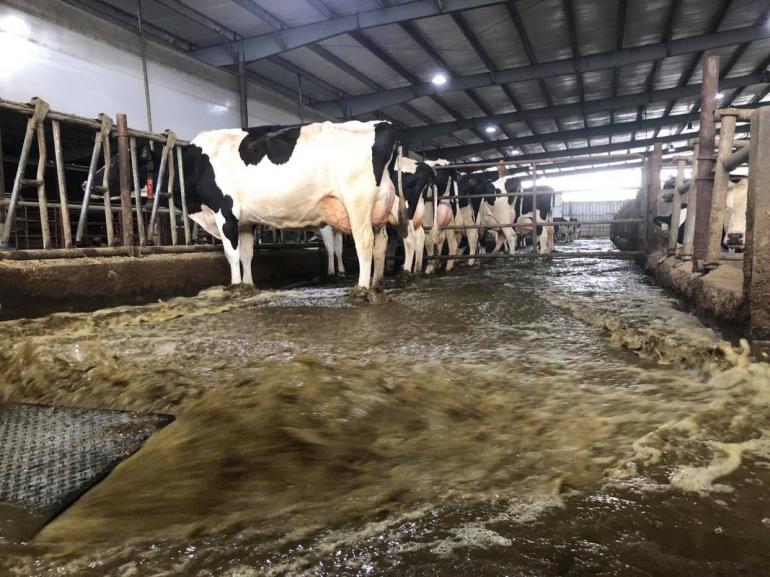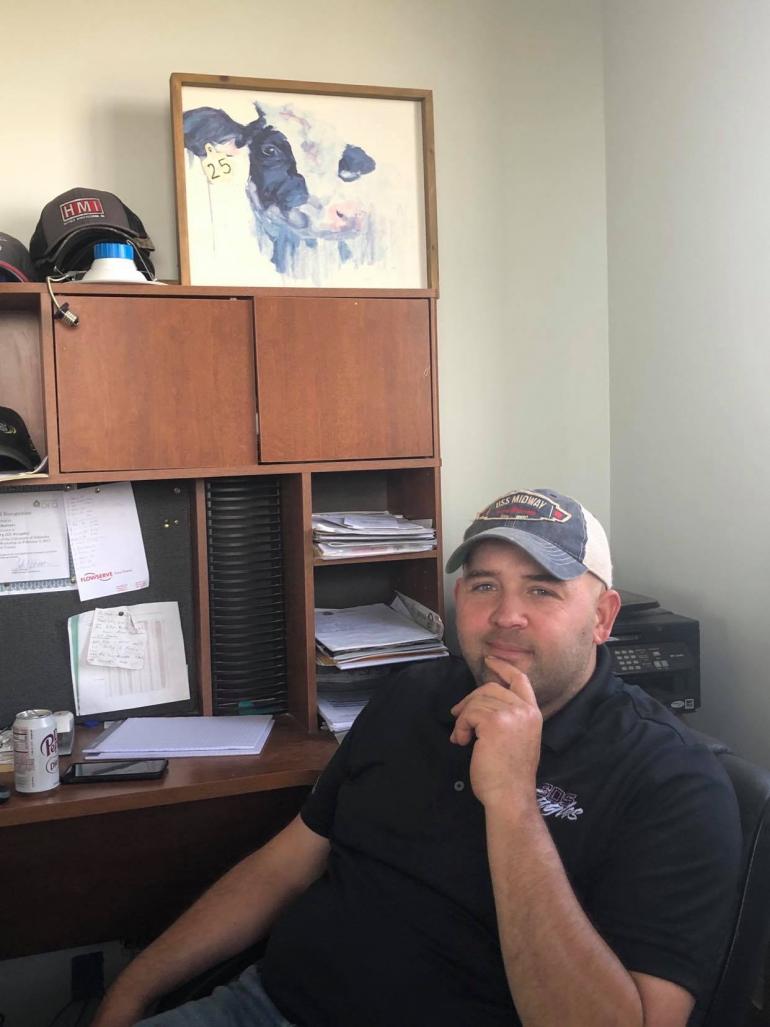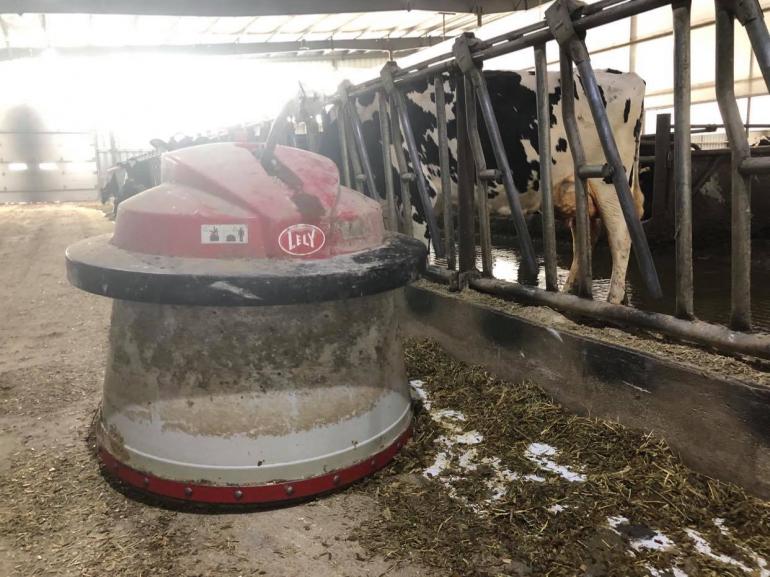 Beavers Dairy
When Brett Beavers graduated from Shickley High School in 1999, he knew he wanted to come back to the family farm, but he also knew he needed to be able to add value to the operation.
At the time, his parents owned a 70-head dairy by Carleton and raised corn, soybeans, and alfalfa. Rather than pursuing a more traditional agriculture degree, he enrolled in a 2-year diesel technology program. "It was a good decision. I learned the mechanics of farm equipment and it taught me a lot about electronics."
He couldn't have known just how much he would use those skills or how they would change his family's future. A few years ago, Brett designed the family-owned, 300-head robotic milking facility southeast of Shickley -- one of only three of its kind in Nebraska.
From the five-robot automated milking stations to the video system that monitors each cow, he applies technology and mechanical skills every day.
From the outside, the tidy gray-and-black tin building with cupolas looks like a pretty farm building (a very large building measuring about 61,000 square feet). Step inside the free-stall building and you quickly realize it's anything but typical. The wide, open barn is cool and comfortable, flyless, and calm. 
The cows roam about their sections, rest on sand bedding, eat their fill of a high-quality ration and visit the milking stations as they want. The facility has spaces for lactating cows, dry cows, and bred heifers.
Its water cooling system and cross-ventilation keep temperatures below 80 degrees in the summer, while in the winter, the cattle's retained body heat keeps temperatures above 40 degrees. 
The dairy's technology features include:
A water cooling system utilizing cooling pads and evaporative cooling.

An automated water system that flushes the lanes clean every 28 minutes.

An airflow system that generates a 6.8 mph wind, which keeps flies off the animals.

Large open stalls that allow each cow to rest comfortably

A small Juno robot that travels a route periodically, brushing spilled feed back into the bunks.
Brett answers the two questions each visitor routinely asks:
1) No, the cattle do not leave the barn. (The barn addresses all of their comforts and their lactation and dry periods. They seem to be healthier in the climate-controlled environment vs. Nebraska extremes, Brett said.)
2) Yes, the cows really do learn to use the milking stations voluntarily. (It all starts with the cherry-flavored feed pellets the cows eat while milking. The sweet treat, combined with natural instincts to relieve pressure in a full udder, coax them to visit the milking robots.)
In the milking stations, a robotic arm cleans their udders. Lasers determine where to attach the milking cups, and a computer gathers and transmits data from a transponder in each cow's collar, such as how many times the cow visits the milking station, pounds of production, and who was not milked that day. It also can detect fever and illness.
The milk flows through tubes into a 6,700-gallon holding tank. Every other day, a semi picks up their load for delivery to Kansas City, for processing and distribution. The dairy is paid for the amount of butterfat and protein in each gallon, which is used in products ranging from ice cream to string cheese and yogurt.
Not that long ago, Brett wasn't sure the dairy business was in his future. The dairy farm that his uncle, Tom, started in the early 70s, and sold to Brett's parents, Bob and Becky, in 1986, was at a crossroads. They'd spent decades milking cows twice a day. Their facilities were aging and milk prices were low. The Beavers sold the herd in 2012 but missed the cattle, and in 2014 bought 40 heifers and planned to build a new barn.
When Bob mentioned robotics in the dairy industry, Brett latched on to the idea. "I felt like God put it on my heart, that this is where I was supposed to be focusing my attention."
Over the next three years, he did research and visited 35 robotic dairies in Wisconsin, Minnesota, and Iowa. Brett took ideas from each dairy as well as insights from his own years in the business and designed his dairy barn on simple grid paper. He partnered with Lely, a company that designs and manufactures automated systems for dairy farmers around the world. 
When Beavers Dairy began production, it blended his family's history with what he hopes is its future. "Kids need something to move back to. I have three boys and I wanted to make sure the operation was big enough for them to come back," he said.
The dairy has one employee. Each family member also helps out, including sons, Anthony, Jacob and Owen, and Brett's parents, who handle breeding and the baby calves. The robotic dairy provides freedom from a regimented milking schedule. It's equally time consuming, he clarifies, but producers can manage their time. The technology ties Brett or a family member to the dairy at all times, receiving updates electronically. The equipment requires significant preventative maintenance.
This year was supposed to be a strong year, with predictions of the highest milk prices since they began operation. Instead, 2020 brought COVID-19, disrupting supply and demand for milk products, which can't be stored for a later date. When restaurants shut down and schools closed, two of the industry's largest buyers stopped buying. 
Brett didn't have to dump milk as some producers did, but 2020 has been rocky. Prices are rebounding and he hopes the industry can soon overcome the challenges COVID-19 is presenting. 
Brett remains committed to and proud of his product: milk and its related-products supply 73% of the calcium available in the nation's food supply and are also packed with protein and Vitamin D. 
He's also proud of his field: From the way dairy families take care of their cows to providing a local and natural product "there's something unique about dairy," he said. 
                                               * * * 
                   In risk-management, insurance is key 
Two years before Brett Beavers broke ground on his family's robotic dairy facility, a small funnel spun by the property.
"See that little crease in the trees?" Brett asks, pointing to a line of evergreens just west of the dairy facility. Even a tiny tornado is unwelcome, especially when you're about to build your future (literally). 
It's a visible reminder of the importance of comprehensive insurance.
"When you do something of this scale, managing risk is key. If you are laying everything on the line you have to consider every scenario; even the doomsday scenarios," Brett said.
He chose Fortify Group to insure his business, both for its local agents and its ability to work with many companies to find the policy that best fits his coverage needs and risks.
Fortify Group Agent Joe Kamler matched Beavers Dairy to Great American Insurance, which offers specialized coverage for dairy farms. It covers industry-specific items, like broad pollution liability options, premium credits for dairy farmers who meet high milk quality standards, and coverage for the loss of dairy cattle value due to a covered cause.
Fortify Group is very fortunate to have Brett's family as a customer, said Agent Joe Kamler. "Brett's entrepreneurship, vision, and high-level management skills make him the ideal insurance customer. It is a true joy to work with Brett.  His attention to detail and business-like approach has made my job extremely easy as his insurance agent. I always look forward to visiting the dairy and seeing the Beavers family."