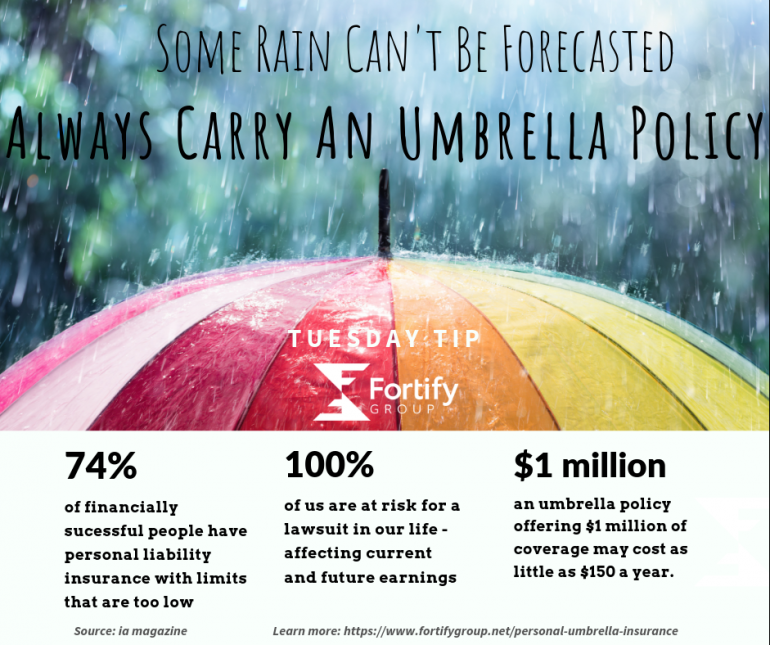 There's a common misconception that Personal Liability Insurance (often called 'umbrella' insurance) is for the wealthy. That's false, however, and that misconception can keep people from benefiting from the protection the policy offers. 
At Fortify Group, we try to point out the value of umbrella insurance to our customers as often as possible, no matter their income.
Why? 
Because lawsuits have become a part of society and their financial judgments can affect a person's current and future assets and earnings.
That means even a young adult with few possessions can benefit from an umbrella policy. If they are found at fault in an auto accident and a lawsuit follows, the results could impact their financial earnings for years to come.
But there's good news, too, - the umbrella policy is fairly inexpensive. One million of coverage often costs less than $150 a year.
For that $150, the policyholder receives an extra layer of protection --  some $1 million to $5 million in affordable, additional insurance that protects you in the event of major claims and lawsuits. It supplements basic liability policies that are included on auto and home policies.
It's also important to note that umbrella policies also can provide extra coverage to protect yourself in the event of an accident with someone who is not insured or does not carry enough insurance.
Here are three more reasons to consider having a personal umbrella insurance policy:
Retirement savings: What happens to plans for the future if an unforeseen accident puts retirement savings in jeopardy?
Education: What happens to funds set aside to support family members' education or business endeavors, in the event of a lawsuit?
Legacy: What happens to the farm or business that has been in the family for generations if you are held accountable for an accident on your property?
It only takes one liability event to affect financial stability.
Contact your Fortify Group agent to learn more or to add an umbrella policy to your insurance coverage.
Source: ia magazine