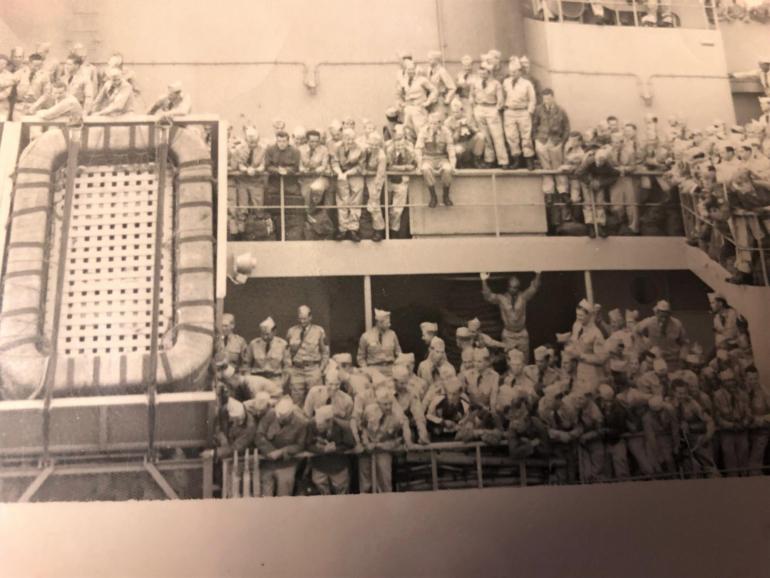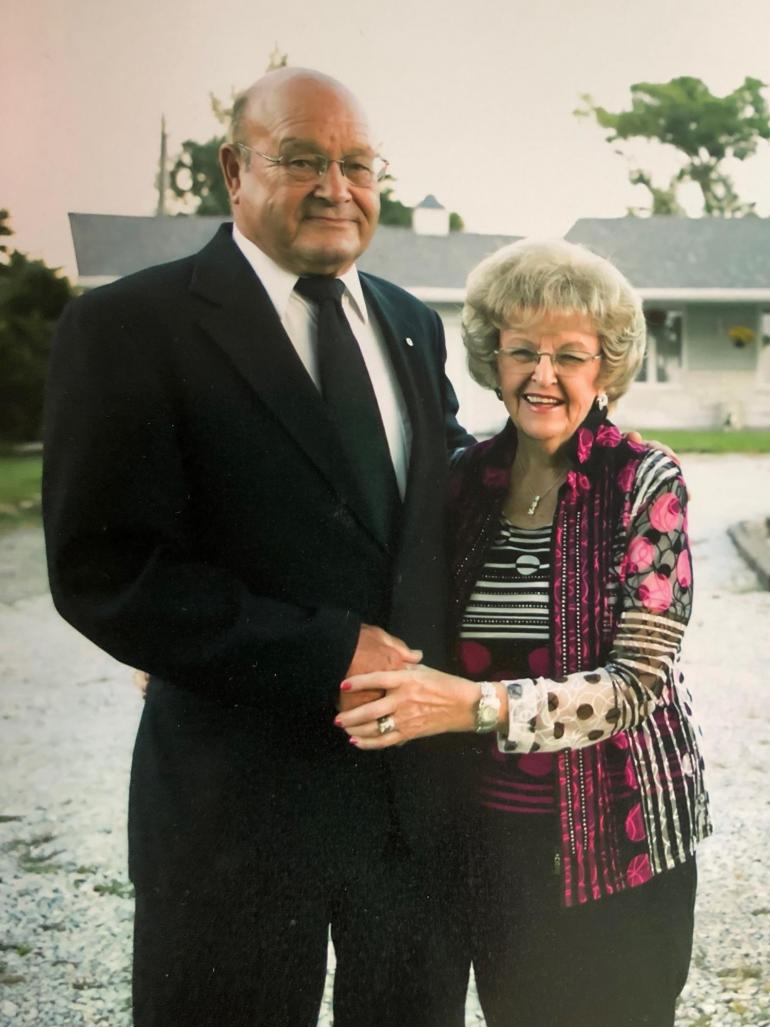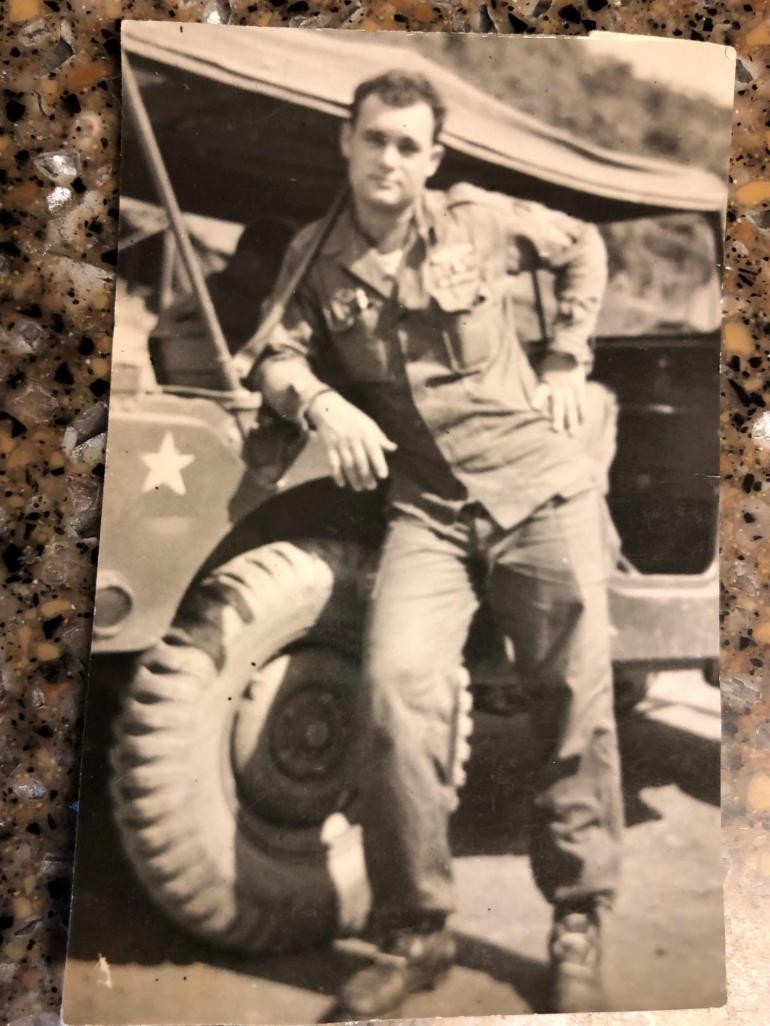 **This Memorial Day, we honor Shickley veteran and longtime customer Francis Reinsch.
On Monday, Francis "Tanny" Reinsch and his wife, Marilyn, will travel to Shickley's Memorial Day Service, as they do every year possible.
They might gather in the community center afterward, sitting down to the table with other veterans and spouses and family members.
That's what is visible on the surface; Tanny -- a vibrant force even as he nears 90 --  enjoying the camaraderie, a couple of hours to catch up over sandwiches and pie. He might turn his head to better hear the conversation on his left side, with the ear that came too close to a mortar round in Korea.
Look closer, though.
Because 22-year-old Tanny is there, too.
The young man who carried a gun and waited in the rain; who crawled to a listening post on his belly and hunkered down in mountainside trenches too shallow to hold all the fear.
Memorial Day is for that young man too, the one who received a draft letter in 1952 that divided his life as sharply as the 38th parallel divided North Korea and South Korea.
That young man made it through and returned home when friends didn't; he made way for the life that followed: Marilyn, their three children, a 63-year marriage and counting, good years on a family farm and now in Geneva.
When he talks about his years in Korea -- arriving at 22 and leaving at 24 -- he is low key, grateful, and humorous in turn.
Tanny was selected for a Korean War Honor Flight in 2014. (A great event in every way, he said.) The banquet the night before the flight gave him a chance to hear thanks from Korean citizens, who told him they were grateful for the American soldiers and all they sacrificed.
"They said we saved their country from Communism," Tanny summed up simply.
He counts that as the accomplishment of time in Korea - that and making it home.
Until Feb. 18, 1952, Tanny's life was Fillmore County. He had four siblings, a diploma from Geneva High School, a few odd jobs and work on a farm. He enjoyed dances and beers with friends, and the Nebraska seasons flowing one to another.
When the draft letter arrived in his mailbox, it marked the first time he even thought about a place called Korea.  He was one of five draftees who left Fillmore County on the same day. Two are left, as far as he knows.
After training, Tanny landed in South Korea in the middle of the night. He was assigned to the 7th Infantry Division of the U.S. Army. In his eyes, the worst of the war took place before his arrival. "That's when they had the big pushes by North Korea. When I got there, they had their line and we had ours."
His closest call took place shortly after arrival. After notice came through to move out of the area, he grabbed ammunition that had been knocked from a machine gun, looped it around his neck and ran. The ammo snagged on a wire, leaving him stuck and vulnerable. A sergeant freed him, yelling "... 'take that ammo off and get out of here'...It was my first patrol. I never was so scared in my whole life. My teeth were chattering. I remember that."
He remembers the lives lost on that patrol too, including a good friend.
Tanny would find himself on the front lines many more times. Much of his time was spent in 'listening patrols.' "We'd take turns going down the hill from the bunkers to report our position through a sound-powered phone every hour."
The lines and battles seesawed. "We'd take something one time. They'd take it the next."
He sent letters back home when he could and his mother shared one with the Nebraska Signal:
"..It's terrible what that artillery can do. I guess from what I hear (the enemy) hit all along this front last night… Pork Chop, a hill to the left, was overrun, then we took it back. I'm surely glad I got out of the rifle platoon when I did," he wrote.
January and Feb. of 1953 were the hardest, he recalls, two months of no sleep long enough to remember. But by the end of February, his paths had crossed with a lieutenant who would call Tanny to join his squad in Headquarters Company. "That saved my life. I know it did," Tanny states firmly.
The war was winding down, but not before it claimed his best friend, a fellow Nebraskan named John Moore who was killed during the battle on Pork Chop Hill. The pair had met in basic training and were assigned to the same squad in Korea. His friend died while the Korean Armistice Agreement was taking form, a fingertip away from the war's end.
 
Tanny rotated back to the United States in August of 1953 and was honorably discharged from service in March of 1954.
His parents welcomed him home and he returned for a time to their home on the corner of 13th and E streets in Geneva. Although life could never be exactly as it was when he left, there were dances again in his future and beers with buddies, including the night their weekly outing led him to meet Marilyn at the Star Cafe in York.
They married in October of 1955 and had two daughters and a son, grieving together when they lost son, Patrick, to a heart attack at age 44.
Their family numbers three grandchildren and 11 great-grandchildren now, some close and some far, but all proud of Tanny and his service.
Tanny was asked to re-up as the war ended. It was a chance to become a master sergeant. That young man, Tanny at age 24, firmly said "No."
"I wouldn't want to go through it again for a million dollars."