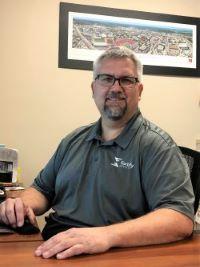 Fortify Group officially became a three-location company with the recent opening of an insurance office in North Platte. The new office in North Platte's busy S. Jeffers St. district is staffed by a fulltime agent who will serve farm and crop customers as well as commercial and personal insurance customers.
"With the hiring of North Platte native Kevin McGahan, it was the perfect opportunity to open a third office and further offer Fortify Group insurance products and service to North Platte area businessmen, farmers, ranchers and consumers," said Fortify co-owner Joe Kamler.
Why North Platte?

Although Fortify Group's roots are in Fillmore County, its ties to North Platte go back to the early 80s, when a former company owner's ties to farmland in the area led to a new base of insurance customers. Strong customer service combined with financially sound insurance carriers helped the insurance presence steadily grow in the Lincoln County area.

Fortify Group agents traveled the 180+ miles between Fillmore County and North Platte several times a year to take care of customers and their claims.
By 2018 the customer base had grown large enough to open a local office, staffed by Kevin.
Kevin's ties to the area and his strong agricultural and insurance background made him the perfect candidate to open and grow the new site, Fortify Group owners said. 

Meet Kevin

To Kevin, North Platte is home.

It's where he grew up. Kevin's father was a longtime superintendent at St. Patrick's High School, and his mother, a business teacher and a vice president at Mid-Plains Community College. Kevin and his four siblings each graduated from "St. Pat's"  followed by the University of Nebraska-Lincoln.

Kevin returned to his hometown to raise his own family, which includes four children. 

He's also close to his "second home", a small dryland farm in Elsie, about 50 miles southwest of North Platte. The summers of his youth unfolded there and he still carries bits of it in his heart. 

"It was a peaceful place for me; a good escape from everything," Kevin said. He drove a 1935 John Deere D around the farm that annually produced wheat, a few cows and at one time a large number of pigs. He and his brothers worked alongside their grandfather, an "old-school farmer" who liked to tell his grandkids "they should be paying him for the experience of driving antique tractors instead of him paying them to help," Kevin said.  "But by the end of the summer, I think we got about $500, plus all the Mountain Dew and good food we wanted."
Kevin earned a Bachelor's Degree in Mechanized Agriculture from UNL. His career includes roles with Valley Pivot, the grain elevator in Elsie, HD Management in North Platte and most recently, 13 years selling crop insurance with Farm Credit Services, something he greatly enjoyed.  

"I liked visiting with farmers and seeing how their crops were progressing. To me, farming is an honorable profession and I liked being able to support it."
Kevin has settled into his new role with Fortify Group, making the office at 408 S. Jeffers Street a welcoming place to work with customers seeking insurance solutions.
"Fortify Group Insurance is very fortunate to hire Kevin- his expertise, experience, and North Platte background are rare traits to find when selecting an insurance agent to work with.  Fortify Group Insurance is now well positioned to better serve the North Platte area," Kamler said.
 
Staffing and services in the Geneva and Shickley offices will remain unchanged.
Read Kevin's bio here.